31/8/2018
Bike for Europe teams ready to start epic journeys across the continent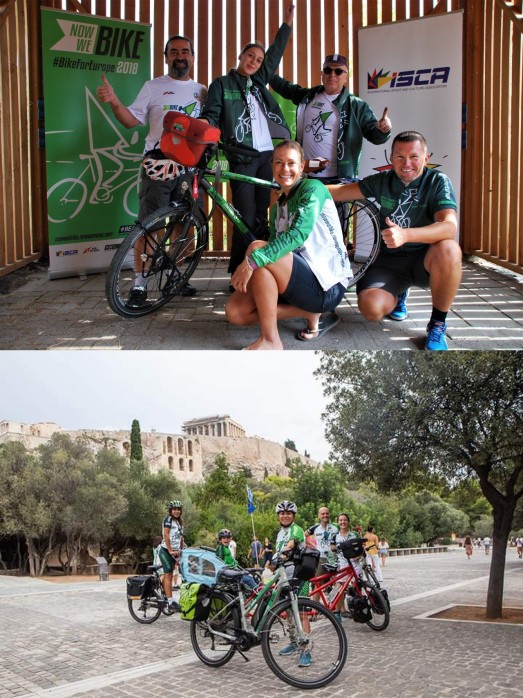 Press release: Drenthe, Netherlands/Thessaloniki, Greece, 31 August 2018.
In the build-up to the fourth European Week of Sport this September, two teams of recreational, volunteer cyclists will ride their bikes from Drenthe, the Netherlands, and Thessaloniki, Greece, to Vienna, Austria, to raise awareness about the benefits of active transport and physical activity for health, the environment and social inclusion. The cross-border tour is called Bike for Europe and runs from 1-23 September through 11 countries.
Both teams will start their approximately 1750km journeys tomorrow, 1 September, and meet each other at the official European Week of Sport opening ceremony in Vienna, which is also hosting the Austrian Presidency of the Council of the EU, on Saturday 22 September as a symbolic gesture of solidarity and peaceful mobility.
Bike for Europe is a cross-border cycling tour organised by the ISCA and co-funded by the European Commission as an official European Week of Sport event for 2018. The tour will finish on 23 September as part of the celebration of the Week in the Vienna.
The Bike for Europe tour will travel along several EuroVelo routes and parts of the Cycling Cities network in the Netherlands, Belgium, Germany, Czech Republic, Austria, Slovakia, Hungary, Romania, Serbia, Bulgaria and Greece.
Cycling enthusiasts are invited to follow the tour in person by joining in on-route or off-route events, online via the Donate Your Kilometres Challenge to raise funds for bicycles for organisations working with refugees, or by tracking the teams' progress on Strava.
Bike for Europe Tour Coordinator Laura-Maria Tiidla says anyone can get involved in the tour, and in doing so will get behind a cause that is important to so many Europeans at a difficult and divisive moment in our history.
"I believe Bike for Europe will offer an opportunity for Europeans to show their support towards intercultural solidarity. Local citizens can choose different levels of involvement: joining the tour, organising local events, donating cycling kilometres or supporting local crowdfunding campaigns," she says.
Side events are planned all along the route and off-route in Albania, Cyprus, Italy, Poland, Romania and the UK and all events are registered on the official website http://nowwebike.nowwemove.com/
The Bike for Europe tour is co-funded by the European Commission as a Not-for-Profit European Week of Sport Event and promotes the #BeActive message.
For live updates about the tour, follow the journey's hashtag #BikeForEurope on Twitter @ISCA_tweet and @NowWeMove and the tour's website.
Press contact
Laura Maria Tiidla, Bike for Europe Project Coordinator at ISCA, [email protected]
For current photos during tour: Please contact Rachel Payne, ISCA Communications Manager, [email protected]