22/9/2018
Bike for Europe teams arrive at European Village after 22 days showcasing the power of the bike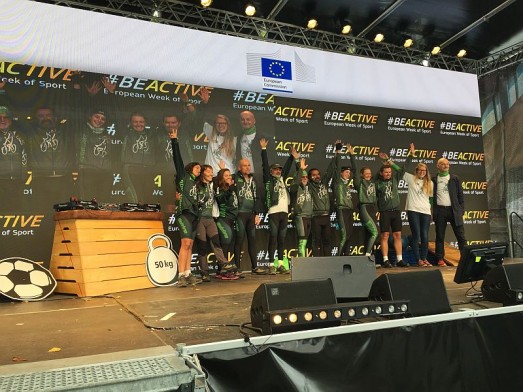 The Bike for Europe teams took centre stage at European Village and Day of Sport (Tag des Sports) festival in Vienna on 22 September when they arrived after 22 days and 1750km cycling from the north and south to the centre of Europe. Commissioner for Education, Culture, Youth and Sport Tibor Navracsics was there to greet the teams and receive the last of the 23 olive trees the South Team had carried with them from Olympia, Greece, as a gesture of peace and European solidarity for each country they visited along the way to Vienna.
The teams' arrival paved the way for Commissioner Navracsics' speech to officially open the fourth European Week of Sport, as the tour had been promoting the #BeActive message, participation in physical activity and social inclusion in the lead-up to the week.
In his on-stage interview, ready to present the olive tree to the Commissioner, South Team captain Georgios Farfaras explained why it was important for his team to plant these trees along their #BikeForEurope journey.
"During the pre-tour we had in Greece we visited ancient Olympia to attend a photo exhibition for refugees and on stories about refugees living in Greece as part of a United Nations project for accommodation and assistance," he said.
"So we had the idea to take some olive trees from ancient Olympia, because the olive was a gift to the winners of the Olympic Games and the olive tree is the symbol for peace and friendship. So we carried with our trailer 23 olive trees along the way and every day we had a tree planting with the local organisation and the people we met there to symbolise our route and for everyone to remember that cycling is a powerful tool for social inclusion – for poor people, for disabled people, for immigrants, for refugees for everyone. The bicycle can bring us together."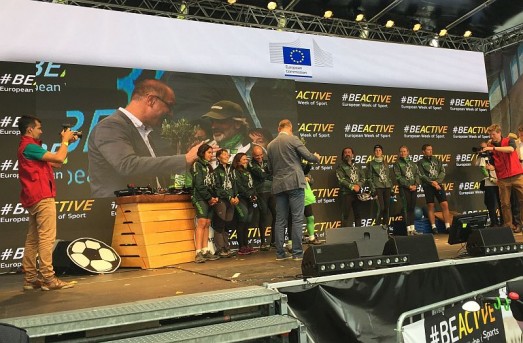 Recreational cyclists with the power to create change
The Bike for Europe tour showed how recreational cyclists can be advocates for cycling and make a difference to people in other countries if they have an opportunity to travel through difference countries and engage with the locals. South Team member Alexios Menexiadis said he thought it was remarkable that ordinary citizens with different professions and interests could find a common cause among themselves and people from cities and villages across Europe.
"We're not professional cyclists, we're an engineer, a historian, a photographer… so the bicycle united us and this is our project," he said.
"The other thing is that when you're cycling to another country and local people see you, they come and talk to you and ask 'Where do you come from? What are you doing?', and if you go by car or by motorcycle this doesn't happen. So it's also uniting you with the country you're visiting."
Katarina Farfara, who only started cycling weeks before she embarked on the 1750km journey with the South Team, said she also saw an underlying cycling movement across southern Europe, and that it was an eye-opener to see how the bicycle is used in everyday life, particularly in smaller villages.
"We passed through big cities and small villages and we met a lot of cyclists along the way, both professional and also locals using their bikes for everyday life. For example, in Hungary we saw cleaning ladies on the bike with the broom on the side cleaning the street, so we felt like we were part of a proud community where we are all communicating the same way on the street, so it felt good," she said.
North Team member Adnan Cangir said that this experience of reaching out to people that would not normally be reached by top-down organisations or initiatives was a driving force for both teams.
"We had some physical challenges [along the way], but that's all. Our mission was amazing and we were highly motivated. During the whole journey gained lots of experience and got to know many new people. We sent our message to go out and MOVE. So it was not a real challenge – a physical challenge only," he said.
The third NowWeBike tour under the NowWeMOVE campaign has now drawn to a close, but the passion of the Bike for Europe cyclists from five countries and two continents, our side event and partner organisations from 17 countries, and the 11,000+ people from over 75 countries who supported the Bike for Europe Kilometre Donation Challenge, and political leaders such as Pascal Smet and Marisa Fernandez ensures that the cycling for all movement is only just beginning and has the potential to create an even bigger impact in the future.
We look forward to the next edition and in the meantime, NowWeBike!
By Rachel Payne, ISCA