1/8/2018
Bike for Europe – one month to go!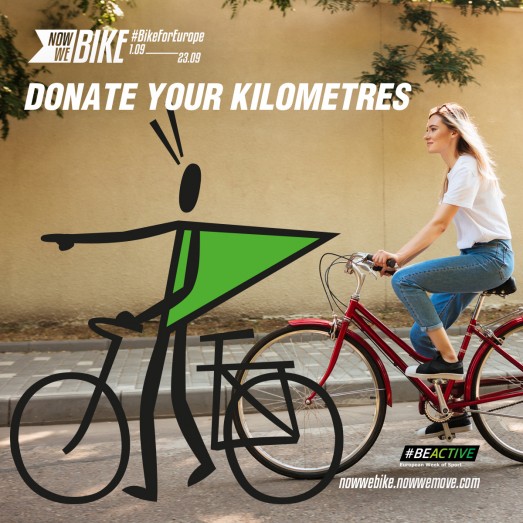 There's only one month between now and the start line, where two teams of recreational cyclists will begin pedalling from opposite sides of Europe as part of the Bike for Europe tour – an official European Week of Sport and NowWeMOVE event – towards the centre of Europe.
The teams will depart from the Netherlands and Greece on 1 September and meet in Vienna at the opening of the European Week of Sport in Vienna on 22 September. All together they will pass through 11 countries and cycle almost 3000km raising awareness about social inclusion through physical activity and hope for a more united Europe.
But the tour is not just limited to the team – there are also plenty of opportunities for cycling promoters and everyday cyclists to get involved.
Organise or take part in a side event – on or off the route
Bike for Europe is a perfect opportunity for NGOs and sports clubs interested in cycling-related activities to be part of a pan-European tour and the European Week of Sport.
You can join in Bike for Europe on and off the tour route throughout September by connecting your existing cycling events with our #BeActive event or by taking part in the activities already planned. You can see the full list of events and cities here. Follow the Facebook event for more updates throughout the tour. Register a side event here and download the Action Guide for tips and inspiration.
Your cycled kilometres can help buy bikes for people in need
The Bike for Europe Donate Your Kilometres campaign is under way and over 5000 recreational cyclists from 72 countries are already two-thirds of the way to reaching the goal of 3 million kilometres. In addition to supporting Bike for Europe and raising awareness of the physical and social benefits of cycling, the contributed kilometres will go towards buying 100 bicycles for NGOs working with refugees and others in need. Over 2 million kilometres are tallied on the collective score board – only 1 million to go!
Pedal power is all you need to donate to a good cause. Whether cycling is part of your everyday routine, an active holiday or a day-trip at the weekend, every kilometre counts!
Visit the official website for more information and check out our latest special edition newsletter.