20/6/2018
Bike for Europe Action Guide shares tips for organising a bike tour side event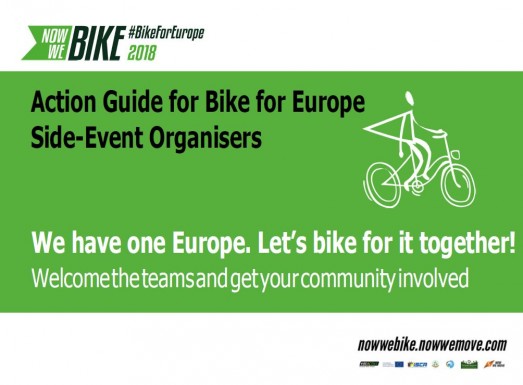 Today we proudly present our Bike for Europe Action Guide! It includes everything you need to know about the Bike for Europe tour, taking place from 1-23 September, how to organise a side event and how to promote it on social media. The guide is designed to provide brief but essential information about many aspect of Bike for Europe.
It aims at sport institutions, local sport clubs and individuals to get engaged with this pan-European cycling tour either on or off its route through 11 different European countries with its ultimate destination in Vienna, Austria.
The purpose of Bike for Europe is to bring Europe and its citizens closer together, promote social inclusion through sport and physical activity and to encourage people to use the bicycle as a sustainable means of transportation.
These are also the reasons why we came up with the Bike for Europe Kilometre Donation Challenge. The idea is to bring Europe and its citizens working together to show their support for a more united Europe through cycling. This selfless campaign has set itself the goal of collecting 1,000,000 cycling kilometres to support the Bike for Europe cross-border cycling tour and the message of a healthy lifestyle, cycling and solidarity among Europeans.
If all of us come together and collect 1,000,000 cycling kilometres, 100 bicycles will be donated to selected NGOs specialised in working with refugees. The concept is simple: Europeans get on their bikes, ride for their well-being, donate their cycled kilometres and contribute to empowering people through cycling and sport.