28/2/2017
"Before you pass on the knowledge, you need to do your homework"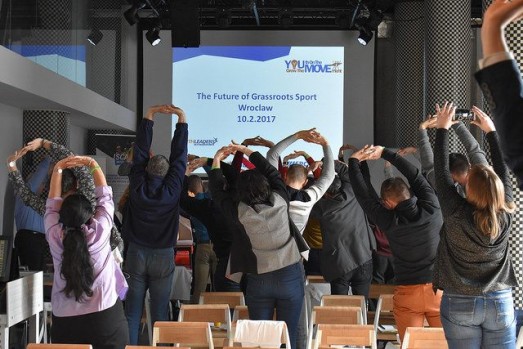 On 9-11 February, ISCA and our Youth on the MOVE project partner in Poland, V4Sport, hosted the Future of the Grassroots Sport conference in Wroclaw. The event, supported by Youth on the MOVE and Youth Leaders Across Borders (a project led by ISCA member StreetGames), gathered more than 100 participants from European countries as well as USA, Brazil, Colombia and Hong Kong.
The conference was a great opportunity for the NowWeMOVE campaign's National Coordinators to share their good practices in the fields of campaigns and sustainable activation. Local initiatives from the city of Wroclaw, such as Culture Parks, School in Shape and Municipal Volunteering Centre were also presented.
A great example of how a local initiative managed to become a national project in seven years, is the project called "Mali Wspaniali" (Little Greatest), which teaches martial arts to young children in nursery schools. Patrycja Szczerba-Musiał, the operational director, shares the biggest lesson the experience has taught her:
"I've always wanted to make my ideas big, straight away. But it's important to work on a local level first, to make it as perfect as possible, and make things work as much as you can, and to make mistakes before you try to transfer it. Transferring is a big step in terms of control of quality and maintaining the values of the programme and the organisation. Before you want to pass on the knowledge, you need to do the homework by yourself."
The Youth on the MOVE project drew to a close with an inspiring video featuring the young participants who have embraced the opportunity to learn and become change-makers in their communities. They have become 60 new MOVE Agents who are promoting physical activity in Europe and Latin America. You can see the video on our NowWeMOVE campaign channel.
The "Youth on the MOVE" project is financed by the EU's Erasmus+ programme under Capacity Building in the Field of Youth. It is led by the following four organisations:
ISCA – International Sport and Culture Association (Denmark)
SESC São Paulo – Social Service of Commerce (Brazil)
UBAE - (Spain)
V4SPORT – Volunteers 4 Sport (Poland)
By Monika Resetar, ISCA