4/8/2020
As Covid-19 disruptions continue ISCA and our members stay on track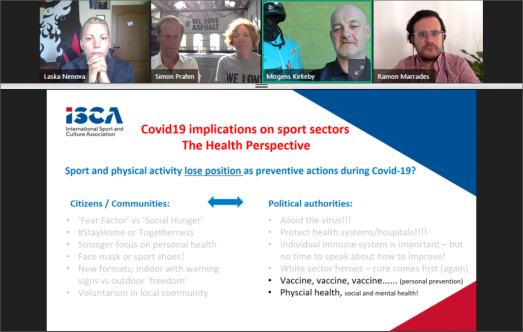 Comment by ISCA President Mogens Kirkeby. Pictured above: MOVE Week webinar on 'Public Space and Physical Activity During and After Covid-19'.
For sure we are all aware of that the first half of 2020 has been very different and challenging. The overarching headline has been 'restrictions due to Covid-19'. All societies are affected, many sectors have been severely affected and we know that many ISCA members and partners are in very difficult situations.
It is our common task to assist our members with help, ideas and solutions during and after the Covid-19 restrictions. It is our task to make sure our members see this international network, including ongoing relations and collaboration with other members, as part of the solution and not something they need to stop.
For ISCA as an umbrella organisation Covid-19 is also a potential disruption. Such major changes can give severe problems for the work we do and the funding we need to have. However, ISCA's strategy has been not to cancel activities but to handle them online or in other ways.
Luckily for our sector, physical activity has remained a relevant and needed part of our everyday lives under lockdown, and we and many of our members have been able to adapt quickly to put our activities online. We have also organised peer-to-peer support meetings for our members, NowWeMOVE Campaign National Coordinators and project partners so they could openly discuss how they are dealing with lockdowns and reopening in their sports and fitness clubs, or how they have adjusted their activities as NGOs. The brainstorming started early and has led to inspiring results.
At this point we can say that we have done a good job. We can look back on a very well handled six months and know that we came through this period quite successfully. That is a very good sign! We know that the restrictions from Covid-19 are still around and that difficult situations can return or persist in the coming months – but at this point I would like to assure our members we are striving to place our work to keep people moving and active in the best possible position for the future!
ISCA events and projects continued online under lockdown
ISCA's involvement in special initiatives during lockdown