2/9/2018
Activities for all and local bike donations kicked-off South Team tour in Greece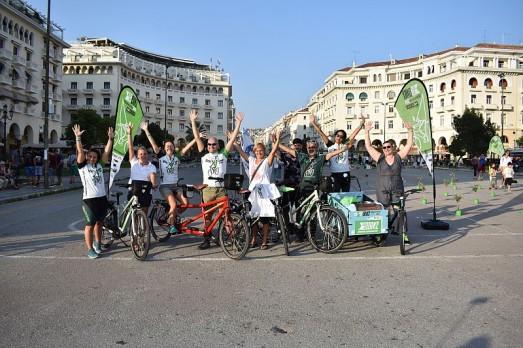 The South Team of Bike for Europe officially kicked off the tour on 1 September from Aristotelus Square, Thessaloniki, Greece. The opening of the NowWeBike #Bike for Europe event in Thessaloniki involved various organisations and the citizens of the city, starting at 11:00 am and finishing at 8pm.
As part of the NowWeBike #Bike for Europe opening event, the Greek NowWeMOVE coordinator and ISCA member Greenways Social Cooperative Enterprise gifted 25 bikes to a local organisation working actively with refugees based in the city of Seres.
Georgios Farfaras, the South Team captain and manager of Greenways Social Cooperative Enterprise, organised the opening event and shared that he wanted to make the event accessible and attractive to the whole community.
"The idea of the whole event is to raise awareness about the benefits of active transport and physical activity for health, environment and social inclusion and we wanted to have different activities for all - including face painting for kids," he said.
The program of the day included numerous events, such as gymnastics for all, bike tests, a slow biking competition around the 20 olive trees the South Team will plant along their route, and a homeless cup football tournament. Both the South Team and ISCA representatives were present and mingled with the people of Thessaloniki. All language barriers were solved with the language of smiles and free bike lessons.
Exactly at 7:30pm, The South Team of #BikeforEurope officially cycled off for Vienna.
Follow the tour at the officia website here