31/7/2013
4.3 Training course LORDS OF HEALTH - MULTIPLIERS OF HEALTHY LIFESTYLES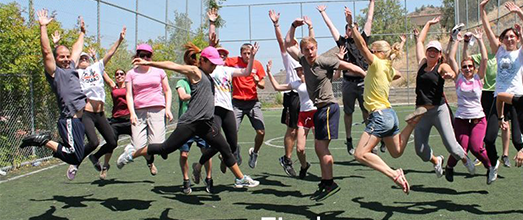 The focus of the international training course "Lords of Health" was placed on providing participants with knowledge, ideas, tools and methodologies to assist them in helping and educating their groups of young people to understand and start making informed lifestyle choices that would better their health and lifestyle. The international 7-day training was held in Cyprus in the summer period and the 19 participants from nine countries were involved in several practical activities, including team building and collaborative work.
Summary of the project
In Europe obesity affects about 70% of the population. Central and Eastern Europe are among the most affected areas. Even more alarming is the fact that the number of obese children under age 5 is more than 5 million. The number of young people with diseases caused by an unbalanced lifestyle is more than 50%. The general fact that people, especially the young ones, are moving too little and consuming too much is the trend to which EU experts attribute the increase of ill health and the shortening of lives. Foregoing research indicates that increased physical activity levels will lead to an increase in the quality of life and a decrease in illnesses and deaths (WHO, 2006); whereof physical inactivity alone is causing 10% of deaths in Europe.
The main aim of the project was to create a network of knowledgeable youth workers who can competently promote sport, physical activity and balanced nutrition habits for health, among young people.
Specific objectives:
• To discuss current issues related to the general welfare, nutrition and sports; Exchange of good practices and experiences related to prevention of diseases caused by lack of exercise and poor eating habits.
• To provide participants with opportunities to improve their overall physical and health competencies;
• To create a network of knowledgeable youth leaders, trainers who can work towards promotion of sport for health. Creating an informative guide "Lord of Health", that will include basic rules for balanced nutrition diet, sports and health;
• To provide instruments "Education through sport" with which young people could be persuaded for a life change;
• To create an action plan to find ways to involve more young people in active promotion of sports for health.
Participating countries: Italy, Portugal, Cyprus, Greece, Lithuania, Bulgaria, Greece, Romania, Denmark
The Lords of Health trainers were Laska Nenova (WOW SPORT and Regional coordinator for the NowWeMove campaign) and Renos Georgiou (NECI) Cyprus
ISCA was a partner in the project.
---