23/10/2017
32 new member organisations join ISCA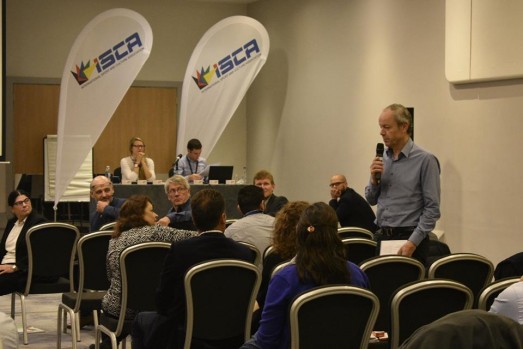 At the 2017 ISCA General Assembly on 7 October, ISCA members voted to ratify 32 new membership applications from community sport organisations, clubs, associations federations, educational institutions and municipalities on six continents. This brings the total number of ISCA members up to 235 organisations.
"There is a constant flow of new incoming member applications," ISCA president Mogens Kirkeby noted at the assembly.
The ISCA network welcomes 12 new member organisations from Europe, 11 from Africa, 6 from Asia, and one from both North and Latin America and one from Oceania.
You can read more about the new member organisations here.
(Philippe De Witte from EUSportLink pictured above: The ISCA General Assembly is a forum for members to have their say and contribute to the umbrella network's future)
From Europe, we welcome
1. ZZ TKK – West Pomeranian Association of the Promotion of Physical Activity (Poland)
2. DDSA – Danish School Sport Association (Denmark)
3. DPES - Deporte para la Educación y la Salud (Spain)
4. CONIFA – Confederation of Independent Football Associations (Sweden)
5. ITF – International Tipcat Federation (UK)
6. US ACLI – Unione Sportiva Acli (Italy)
7. AHS OSO – Artevelde University College Ghent – Bachelor of Secondary Education (Belgium)
8. OWS Club Primorje - Open Water Swimming Club Primorje (Croatia)
9. TUL - Finnish Workers' Sports Federation TUL (Finland)
10. KK Urban Invest - Karate Club Urban Invest (Macedonia)
11. IRSIE – The Institute for the Development of Sport and Education (Poland)
12. PKE – Parkour Earth (UK)
From Africa, we welcome
1. ACD SL – Athletes Combined for Development Sierra Leone (Sierra Leone)
2. GYSEA – Githunguri Youth Sports and Empowerment Association (Kenya)
3. SJJAF - Sport Jiu-Jitsu African Federation (Mauritius)
4. BCFA – Borussia Commondale Football Association (South Africa)
5. ASV – Association Sport et Vertus (Cameroon)
6. Hekima (Tanzania)
7. SFU – Sports Foundation Uganda (Uganda)
8. A.O.GLOBAL – Aseke Obaro Global Organisation (Nigeria)
9. AFFT – Association du Faso de Football de Table (Burkina Faso)
10. UAC – United Action for Children (Cameroon)
11. ASORC – Association Sportive d'Orientation du Cameroun (Cameroon)
From Asia, we welcome
1. NCSA – Nepal Climbing Sport Association (Nepal)
2. ACSA – Alzahra Cultural and Sport Association (Afghanistan)
3. Karsiyaka Municipality (Turkey)
4. LIONS – Lanka Lion Sports Club (Sri Lanka)
5. ASCI – Association of Sports and Culture (India)
6. SSE - Skylink Sports and Education PVT LTD (India)
From North America, we welcome
1. WSGF – World Student Games Federation Inc. (Canada)
From Oceania, we welcome
1. PCYC NSW – Police Citizens Youth Clubs NSW Pty Ltd (Australia)
From Latin America, we welcome
2. CEFD/ UFES - Centro de Educação Física e Desportos da Universidade Federal do Espírito Santo (Brazil)
Read the full minutes from ISCA General Assembly 2017 here.