31/10/2015
2015 ISCA Annual Report now available
Celebrating 20 years: where are we now – where do we want to go?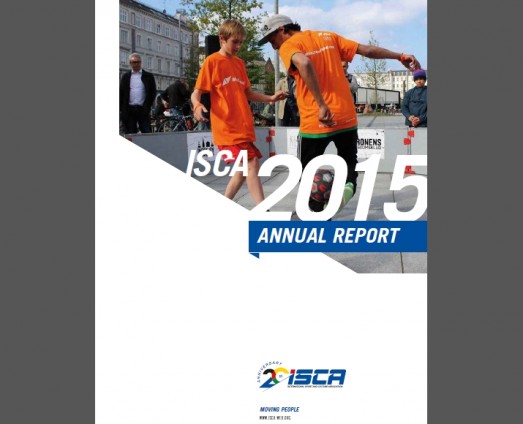 At the ISCA General Assembly and MOVE Congress next week, ISCA will be celebrating its 20th anniversary. With this occasion we must take stock: Where are we, and where do we want to go?
This year's ISCA Annual Report is a colourful illustration of how ISCA has developed from an idea and a philosophy to being an operational movement today.
We remain true to the original philosophy but we have added ACTION and ADVOCACY.
ISCA is the sum of its members. And the number of members keeps growing. So we must ask ourselves – what is our role in the world of today and tomorrow?
When I look at ISCA's members I see organisations that devel¬op societies, one individual at a time. This is social change from the bottom-up. It is done via the cultures of movement that you all represent. But we do not MOVE people for the sake of movement. We move for a purpose. And while those purposes develop over time – from inclusion, to education, to health and well-being, we can see ISCA members play an increasingly important role in tackling key societal challenges.
Sustainable Development Goals
On 25 September, 2015, The United Nations General Assembly adopted the Sustainable Development Goals, outlining the priorities for global development until 2030. Among the goals are to reduce non-communicable diseases though prevention; promote life-long learning opportunities; achieve gender equality.
Can ISCA and ISCA members contribute to the UN Sustainable Development Goals?
Absolutely!
I believe we need at all times to see ourselves as being part of the solution to societal challenges; and to advocate for those solutions.
Going Global
If we would like the ISCA movement to be a global solu¬tion-provider with local anchors, we should not be afraid to think big. To take "big action". And to advocate for big change.
ISCA has members from all over the world. They provide valuable actions in their countries, every day. We have also developed strong international actions and exchange opportunities in ISCA. This has taken off in Europe with the NowWeMOVE Campaign and the MOVE Week, since 2012. It has spread to Latin America with our Semana MUEVELA this year, and has seen first steps in USA as well.
It is my hope and expectation that we can continue to develop solutions for movement, and to be relevant to all members, and therefore all societies, all over the world.
Download the 2015 ISCA Annual Report here
By Jacob Schouenborg, ISCA Secretary General