Another dimension of football
Streetfootballworld is on its way to become an international competence and communication centre for grassroots football, dealing with the "other dimension of the game".
BY VLADIMIR BORKOVIC,
RESEARCH DIRECTOR OF STREETFOOTBALLWORLD
& JÜRGEN GRIESBECK,
MANAGING DIRECTOR OF STREETFOOTBALLWORLD
Who can imagine life without football? The world's favourite game is not just the focus of attention in stadiums, newspapers and on TV screens across the world. It is also the topic of thousands of books, countless exhibitions and innumerable computer games and is actively played - often in the most improbable of places - by millions of enthusiasts world-wide. Moreover, football is also part of the collective consciousness of billions of people across the globe.
However, the game itself is not necessarily 'good' or 'positive' by nature. To truly realize its capacity for social liberation, we must understand how to use football to its full potential. streetfootballworld is a prime example of the power of the world's favourite game when utilized in a positive manner.
A project of the Youth Football Foundation, much of the work of streetfootballworld is concerned with assembling an inclusive global network of football initiatives. After two years, this network now stands at over fifty grassroots football projects and is still growing. Based on the principles of diversity, sustainability and inclusiveness, these projects are targeting less privileged communities with the aim of promoting peaceful conflict resolution, non-formal education, crime reduction, social integration and health.
Jürgen Klinsmann, former German international striker and president of the Youth Football Foundation, is one of those involved in the project. "We envisage streetfootballworld as a global competence centre that works to facilitate communication within the grassroots football community by sharing "best practice" information and experiences amongst like-minded individuals and organisations," he says.
The work of streetfootballworld is publicized in a number of ways: through presentation of news and upcoming events on the website http://www.streetfootballworld.org/, by focusing on "best practice" models in an annual publication and through concrete events in the world of grassroots football. Moreover, streetfootballworld is a unique source of knowledge accessible to all and is becoming an increasingly important tool to encourage efficient international co-operation focused on "the other dimension of the game".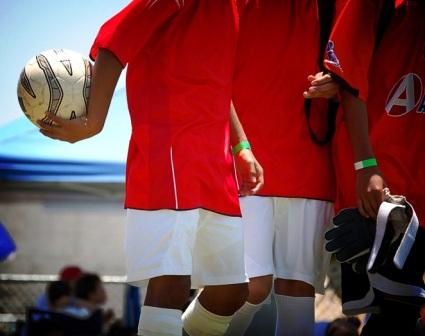 Milestones for the future
streetfootballworld is also committed to developing projects in the host nations of major football events. This approach aims to highlight these events' global accountability as well as their responsibilities to local sustainability. Focusing on the FIFA World Cup 2006 in Germany, "football and society" (together with schools) and "public football grounds" (together with local organisations) will be at the centre of this movement. Other concrete milestones include the WorldFestival and WorldForum, both to be held in 2006.
The value of the work of streetfootballworld is recognized and commended by ISCA, which is a partner in some of the organisation's projects. These include 'Reconciliation through Street Football' in Burundi and the 'Flats Youth Project' in Ghana. Through an ongoing process of knowhow exchange, ISCA supports streetfootballworld in its increasingly important role in providing a permanent focal point for the global grassroots football community while at the same time promoting football as a tool for development and peace.

For more information:
streetfootballworld
Sybelstr. 58
10629 Berlin
Germany
E-mail: [email protected]
http://www.streetfootballworld.org/