UK schools - sport and healthy eating back on the menu
Something of a revolution has been taking place in Britain's schools. Not only is sport making a comeback, but school meals are improving too!
By Marcus Hoy
At the end of 2004, British Prime Minister Tony Blair surprised many by announcing that he was to set aside a total of GBP 500 million to improve school sports and tackle childhood obesity. Specialist teachers were to be employed to teach such diverse subjects as martial arts and yoga, and "competition managers" would be engaged to arrange schoolbased festivals and national tournaments. By the year 2010, he pledged, every child aged between five and 16 would be guaranteed at least four hours of school sport a week.
At the same time, Channel 4 TV chef Jamie Oliver was preparing to shoot a programme that would catch the imagination of the entire nation. Called "Jamie's School Dinners', it attempted to persuade a different British school each week to ditch its standard, processed school dinners and replace them with fresh, nutritious fare. During the course of the series, Oliver demonstrated that, for the cost of a standard school meal - just 37p - pupils could enjoy a tasty and healthy alternative. What Blair was doing for pupils' physical activity, it seemed, the popular chef was attempting to do for their diet.
The TV programme became so popular that it soon spawned a national campaign entitled 'Feed me Better'. Schoolchildren, parents and teaches joined forces to urge the government to make a similar commitment to school dinners as it had done with school sports.
The original plan was to gather 10,000 signatures to present to the Prime Minister. However, as the campaign gathered pace, it became clear that this target would be exceeded. Eventually, just four days after the last episode was broadcast, Oliver delivered a petition containing 271,677 signatures to 10 Downing Street – one of the largest online petitions ever seen. Tony Blair thanked Oliver for his "remarkable work" and announced that the government would spend an additional GBP 280 million on school meals. The average cost per child per meal was to rise to 50p ( 0.74) in primary schools and 60p ( 0.89) for secondary schools.
The most recent development came in May 2006, when Education Secretary Alan Johnson published new minimum nutrition standards for school food. Designed to ensure "healthier eating throughout the school day", the guidelines banned meals high in salt, fat and sugar from the school diet, as well as low quality meat. According to a government statement, the new standards were intended to "improve the quality of food in schools and undo decades of neglect in school meals provision." The rules also put an end to the sale of junk food in vending machines and promoted sales of healthy snacks and drinks such as water, milk, and fruit juices.
"My job was to persuade them [the schools] to make better decisions about what the pupils were eating," says Oliver on his website. "There was no food culture at schools. And in lots of families, people hadn't got time for food and cooking. Some of the younger ones didn't always get dinner at home. That's why it makes more and more sense for schools to step in. Whether they're lucky kids with good food at home or not, they all should get decent food at school.
"The information's all there," he adds. "The statistics show that we're growing more obese, getting more diseases linked with poor diet. If we don't act now, in 100 years what will people think? They'll look back and say, all the signs were there – why didn't they do something?"
In the face of government predictions that 20% of children aged between two and 15 will be chronically obese by 2010, it is yet to be seen how effective the initiatives on school diet and health will be. However, with regular sport and healthy eating now back on the menu in schools, everyone agrees that the well being of Britain's school pupils can only improve!
Further information on Jamie Oliver's campaign can be found at www.feedmebetter.com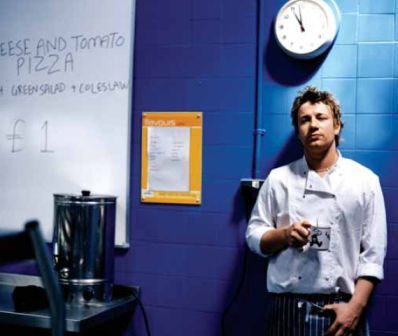 School dinners - the next generation
In line with the recommendations by the England's School Meals Review
Panel, English schools must ensure that meals offered to pupils adhere to the
following guidelines from September 2006
• they should be free from low quality meat products, fizzy drinks, crisps and chocolate or other confectionery;
• high quality meat, poultry or oily fish should be available on a regular basis;
• pupils must be served a minimum of two portions of fruit and vegetables with every meal
• any deep-fried items should be restricted to no more than two portions per week.