ISCA President in dialogue
with Sport for All leaders of the world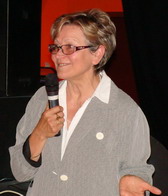 Mrs Jeanine Faivre -
President of the FFEPGV - Fédération Francaise d' Education Physique et de Gymnastique Volontaire
MogensKirkeby

:
JeanineFaivre, this year the FFEPGV is celebrating its 120 years anniversary. In 120years popular gymnastics and volontary organisational life has been theidentity of your organisation.
Howwould you describe the profile of FFEGPV today?
JeanineFaivre:
Todaywe have an original approach towards physical activity and health in France.Every week, we provide for more than half a million people numerous activitiesdedicated to healthier lives. The social benefits are easily visible even inthe smallest villages in France.
MogensKirkeby:
Beingan active volontary based organisation for more 120 years, is in itself a hugeachievement and makes FFEPGV to one of the very oldest volontary movements inEurope. Today, the demands to civil society organisations are to react to theoverall societal needs. It is one of the major challenges to most volontaryorganisations.
Whatdo you consider being the biggest challenges for FFEPGV the coming years?
JeanineFaivre:
Ibelieve that our greatest challenges in the coming years are to motivate bothpeople and organisations, to be active in their daily lives. It is a difficultchallenge to convince organisation, to address the issue of health and physicalactivity. It is another challenge to develop an inclusive approach.
MogensKirkeby:
Thequestion of health is high on the agendas in many countries and France is noexception. Your priority on physical activity and prevention seems to fit bothto the demands of the individual citizens and the society in general.
Whatis FFEPGV's most important contribution to the French society today.
JeanineFaivre:
FFEPGV'smost contribution in France is the link we provide betxeen the medicalcommunity and the sport organisations. We pioneered this approach from thebeginning of our conception.
MogensKirkeby:
FFEPGVis playing a central role in developing, the French National Action Plan forNutrition and Health, and the French actions on Physical Activity and Health.How are you involved and what is your role?
JeanineFaivre:
Weplay a consulting role for these two governementals projects. Aspeciallyconcerning obesity, physical therapy, and a program wich reintroduce physicalactivity in people's lives.
MogensKirkeby:
FFEPGVhas joined the ISCA Health and Sport Network. FFEPGV is partner in the healthproject PATHE and been active participant in the recent Children Fitnessseminar and the 2nd European Sport for All Congress – sport andhealth.
Whyis international partnership important to FFEPGV?
JeanineFaivre:
Sharingideas, reinforce our efforts towards European institutions and developingcampaigns for people.The exchange of experience and meetings of minds givesbirth to greater knowledge and practices but should also allow us to evaluateso we can question these practices.
MogensKirkeby:
Thankyou Jeanine Faivre for your contributions.
Youcan contact the President of FFEPGV Jeanine Faivre at: [email protected]
About FFEPGV
Facts and Figures
The FFEPGV is thefirst French sports federation to bring together both sports and health fromthe very beginning of its creation in 1888.
Its start was foundedupon the management of good health through physical activity for all of its560,000 participants.
Our strategy focusesprimarily on insuring that the most people benefit from this preventativeapproach. Our training methods and techniques are constantly being renovated,updated and approved by the medical community.

5 questions
- 5 answers
Added 21 June 2008
Mr Filippo Fossati -
President of UISP - Italian Sport for All Association
Mogens Kirkeby:
Mr Filippo Fossati, this year UISP is celebrating its 60th anniversary. Much has changed in Italy since the foundation of UISP, societies in general have developed and 'sport for all' has new obligations and challenges. How would you describe the current situation for the 'sport for all' sector in Italy?
Filippo Fossati:
In Italy the number of citizens involved in regular sports activity is growing, but at the same time, the number of completely sedentary people is growing, now at 40% of the population. It's increasing the need of sport for all to achieve objectives of health and individual and social wellness for Italian citizens.
Uisp has great opportunities of development: we have to improve even more our educators and managers' quality. Uisp comprises people who want to practice sports activity and, talking to all levels of society, Uisp plays an important social role that has to be shared by Uisp operators and recognized by Institutions.
Mogens Kirkeby:
National 'sport for all' organisations are in most countries relying on a cooperation with and support from public and governmental institutions, such as municipalities and ministries. In Italy the reality is quite frequent changes at national governmental level. What are the main organisational challenges for UISP, as a national civil society NGO, in this reality of frequent changes at national political level?
Filippo Fossati:
Political changes make our work's continuity very hard. The previous government decided, for the first time in the history of the Italian Republic, to define and finance sport for all. The new government immediately changed this decision. Italy is the only country in which sports is completely delegated to the Olympic Committee, since 1942: this decision created a mastership, financed by the State, that prevents any kind of changes. Italy is a country with great sports results considering the number of sports practisers, but leaves millions of citizens without sports activity. Uisp signed protocols with five ministries (Education, Health, Environment, Tourism, Welfare) to promote sport for all programs to face complex social issues. Our key phrase is to exceed the boundaries of sports policies.
Mogens Kirkeby:
UISP is well known for its international solidarity and engagement. Programmes like Uisp Ngo "Peace Games" and events like the road run "Vivicitta" where you demonstrate that civil society initiatives can overcome barriers of poverty and conflicts, are some of your priorities.
What is the background for your dedication to the international solidarity and support to civil societies in post conflict and developing countries?
Filippo Fossati:
We believe in sport as a right of citizenship. We know that movement, game and physical activity have the great ability to bring together different people and cultures, to build shared languages and to increase the sense of responsibility. Our objective is to make this exchange possible in situations of conflict, of ethnic and cultural tension. We have projects in the Middle East and in Balkans, in Africa and in Latin America, where the results are exceptional. If we don't diffuse sport for all practice, sport of our times will be remembered in the future as a means of propaganda for economic and politic leaderships.
Mogens Kirkeby:
UISP is one of the most active and experienced national 'sport for all' organisations in European cooperation and project management. Last year the European Commission published its White Paper on Sport with a special priority of the social role of sport. What do you consider the most important topics in the White Paper? Do you have some advice for the European Commission on how to reach the final goals?
Filippo Fossati:
We read the EU White Paper with emotion: sport's social value, sport into Welfare's policies, into environment, education, tourism and international cooperation. Later we read the text of the proposed treaty and our enthusiasm went down: National States will have all competence about sport. We have to exert pressure to convince the European Union to admit and enhance sports planning, and to improve the growth of sports activity quality and diffusion, related to citizens' wellness. We have to fortify a european sports network, finding alliances and coordination. I believe that ISCA could play an important role, and Uisp is more than willing to collaborate.
Mogens Kirkeby:
In a few weeks "Rimini 2008 – Sport for All Festival", organized by Uisp and CSIT will take place. The festival will combine sport and culture – competition and debates – friendship and celebrations. How does such festival go inline with the overall aims and priorities of UISP?
Filippo Fossati:
The answer is in the question. What could I say more? Let's come to Rimini from June 20th to July 5th with a pair of sneakers. It will be amazing and we could meet each other.
Mogens Kirkeby:
Thank you to Filippo Fossati for your contributions and congratulations for the 60th anniversary of UISP.
You can contact the President of UISP - Unione Italiana Sport per Tutti at:
[email protected]

About UISP
Facts and Figures
Uisp (Unione Italiana Sport Per tutti) is an association of sport for all with the aim to extend the right to practice sport to everyone.

Our mission is to demonstrate that "an other sport is possible". Uisp has exceeded 1.000.000 active members and more than 14.000 sports clubs.

Uisp has the objective to give value to the several faces of sport, from the competitive one (with particular attention to the dilettantistic and amateurs world) to the spectacular one, from the instrumental (sport for health, the well-being, to defend the environment) to the expressive (collective and individual practices outside of structured sports circuits).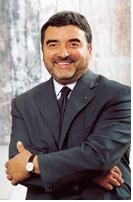 Miro Ukmar
President of Sport Union of Slovenia
Added 18 May 2008
5 Questions
- 5 answers
ISCA president, Mogens Kirkeby talks to President of Sport Union of Slovenia Mr Miro Ukmar about 'sport for all' in Slovenia, health sport, solidarity with neighbour countries and the Slovenian Presidency of the European Union.

Mogens Kirkeby:
Mr Miro Ukmar, the Sport Union of Slovenia has a long history in 'sport for all' and both Slovenia as a country and the Sport Union of Slovenia have undergone rapid development the last 10 years. How would you describe the current situation for the 'sport for all' sector in Slovenia ?
Miro Ukmar:
Sport for all, recreation and physical education are known to be an established value in today's modern time and space. They can represent and affect our lifestyle, lifelong learning, competition or be solely a simple game. But they can also contribute to a more recognizable identity of an individual, the society or even the state and improve the self-esteem of a child or an adolescent.
Together with our members, the Sports Union of Slovenia is striving for sport for all and physical education finding a proper place in our country. The Union will offer comprehensive and high quality support to its members, develop new sports programmes and approaches, enforce and promote sport as an important element of a quality lifestyle, and present itself as a socially responsible national sports organization. Within the framework of its work it carries out different projects and activities. The common goal is the promotion of a healthy lifestyle and active use of leisure time.
Mogens Kirkeby:
The question of health is high on the agendas in many countries and Slovenia is no exeption. The Sport Union of Slovenia has entered international partnerships in the field of "health sport", you have developed national programmes and established partnership with a private insurance company, in the effort to develop further health iniatives. What is your priority in this field and how do you see this area develop in the coming years?
Miro Ukmar:
Sports Union of Slovenia strives for strengthening the health of our citizens. Sport for all is appropriate to fulfill the demands for quality within health because this form of sport enables social integration and has long-term positive effects.

The purpose of our national programme is not just prevention or preventing the illnesses or other disorders to develop but also to educate and encourage the active awareness of permanent and individual health abilities within the physical, psychic and social sources of health. That is why "Healthy Sport Club" (our National project) considers the fundamental goals which are based on strategic goals:

– to develop a culture of physical activity for health strengthening with the entire Slovene population, especially with children and youth,
– to introduce physical activity for health strengthening for all age groups of the Slovene population and for the disabled while taking into consideration the actual state of health,
– ensuring the access and conditions to carry out a safe, efficient and pleasant physical health beneficial activity in living, tourist, school, sports and other environments.
Mogens Kirkeby:
Sport Union of Slovenia has special knowledge about the different structures, cultures and challenges in South East Europe and your organisation has given priority to support the development of the 'sport for all' sector in this region. What is the background for your dedication to the development of the sport for all sector in South East Europe?
Miro Ukmar:
In last few years we helped to increase the functioning of Sport for All in South East Europe with the intention to develop well-functioning democracies. We didn't make this alone but with good seminars, projects, bilateral and multilateral relationships between SFA Organisations in EX Yugoslavia and also with ISCA.
Why SUS coordinated the SEE SFA activities? Popular sport is one of the tools for developing civil society and democracy. Having such a tool available, SUS saw it as the obligation to involve our human and financial resources in South East Europe. We knew the culture, lifestyle and the political situation in SEE more than someone else from EU. Our task was to assist the development of the civil society in the different countries and to ensure that cross-border cooperation between civil society organisations were established and developed.
The Union also plans to take the initiative to establish an informal alliance of key, competent and relevant national organizations for sport for all from SEE in order to make it easier for them to become members of and cooperate with similar organizations from member states of the European Union and to promote an intercultural dialogue in Europe by means of programmes of sport for all.
Mogens Kireby:
Since 1st of January Slovenia has held the presidency of the European Union. 2008 is also the European Year of Intercultural Dialogue. Unfortunately none of the seven socalled "flagship projects" supported by the European Commission has relation to the 'sport for all' sector even though this sector is one of most widespread civil society sectors. Has the Slovenian EU presidency benefitted Sport Union of Slovenia or the 'sport for all' sector in Slovenia?
Miro Ukmar:
I am glad that this interview came as we have welcomed you and many other participants from International, national SFA Organisations, GOs and NGOs in Ljubljana on the first Sport for all event in Europe in 2008 in the European year of Intercultural Dialogue with the main topic »SPORT FOR ALL AS THE ELEMENT OF INTERCULTURAL DIALOGUE«.
The intention of the Round table was to answer the question »How to involve Sport for all into the Intercultural dialogue?«, particulary in 2008 in the European year of Intercultural Dialogue.
We, SFA Organisations, play very important role in Europe, we play Sport for all to become a popular tool used to further integration, inclusion and the development of society. We have to convince EU institutions and national governments not just to listen and understand but also to include civil society in the different policies and programmes.
I hope that results of the round table will developing a long - term strategy for the sport intervention and activities at local, national and international levels and to encourage the Sport for All civil society organisations for intercultural intervention.
I was proud of the fact that the initiative for the organisation of this Round Table was launched by our organisation. The idea was supported by Ministry of Education and Sport. I am glad that Slovenia was hosting this important event and I am glad that Ministry of Education and Sport in Slovenia in time of its Precidency gave full support to this event and to the Ljubljana SFA commitments.
Mogens Kirkeby:
The European Union is facing an enlargement process towards West Balkan. The EU Commissioner for Enlargement, Mr Olli Rehn has lately stressed that civil society play and important role in this process. What is your comments to this position?
Miro Ukmar:
I have read that they will continue to support the countries of Southeast Europe on their road to EU membership and continue to support civil society development. But they cannot succeed without the determination and ownership of the civil society itself. Therefore, they need our inputs. We are ready for them. But without longer term perspective, there can be no guarantee that civil society sport for all organizations with their voluntary based structure and commitments will have the "Organisational Social Responsibility" included in general policy.

(See full statement of Olli Rehn at : http://europa.eu/rapid/pressReleasesAction.do?reference=SPEECH/08/201&format=HTML&aged=0&language=EN&guiLanguage=en )

You can contact the President of Sport Union of Slovenia at
[email protected], [email protected]

Sport Union of Slovenia
Facts and Figures
The Sports Union of Slovenia (SUS) covers sports for all organizations. It includes 320 clubs with all together approximately 95.000 members (5% of the population), and it is one of the largest sports for for all organizations in the country.
SUS activities are oriented towards clubs and individuals; however, the emphasis is laid on further development and modernization of sport for all activities. It purpose is also to attract and include as much people as can be into sport, as well as to include various expertise and to exchange experiences in sense of good practise.
This is achieved through various sports for all activities and events, educational and training programs, qualified staff, information activities, quality management, expert materials and publications, organization and functioning of advisory services for various groups of recreational athletes of all age groups (from children and young people to adults and the elderly).