EU draft policy guidelines for physical activity
A future cornerstone for Sport for All organisations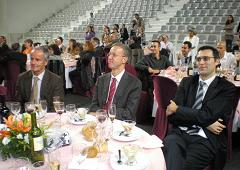 Interview with Mogens Kirkeby
ISCA President
Michal Krejza, Head of the Sport Unit of the European Commission, gave a preview of the future Physical Activity policy guidelines when he addressed the ISCA/CESS 2nd European Sport for All congress on October 24. Now the draft guidelines are public!
The guidelines give clear recommendations to policy makers on how to create better and healthier societies.
"Better and healthier societies is a common goal for all of us - I hope the policy makers will utilize these guidelines to implement actions for the benefit of all citizens", says ISCA president Mogens Kirkeby
The guidelines are exceptional in their nature, as they are very cross-cutting across sectors such as Sport, Health, Education, Transport, Environment, Urban planning and Senior citizens. Equally important, the guidelines are very specific, with measurable suggestions for each sector.
Mogens Kirkeby continues: "I am happy to see the focus on the Sport for All as well as the expectations to other sectors. I hope the ministers are ready to adopt the guidelines and transform these recommendations into policy actions.
We will now disseminate to ISCA members and stakeholders. I am convinced that they can use this. Sport for All organisations can now approach the other stakeholders with the policy guidellines in hand, and that will be a great common discussion platform.

The coming EU Sport Forum in Biarritz will be a good opportunity to present our views and we invite other international organisations to work together for the ambitious goals.

I also welcome the upcoming EU HEPA network, and ISCA will look forward to contributing to this initiative.
Indeed the draft guidelines are an example to be followed. I believe that they can be a source of inspiation also outside the EU, and ISCA will use its international network in this regard."
Read the guidelines here