8/12/2014
News & Partner Actions
Quality aging and multifunctional concept applied to sport: Capoeira and Karate as a possibility to improve motor skills lost with aging
A case study by Diolino Pereira de Brito
04/01/2017
By means of an empirical research this case study points out effective alternatives in coping with isolation during the process of ageing, which may lead to social exclusion and to a sedentary lifestyle.
As an alternative physical exercise, Capoeira and Karate, based on the SESC Sao Paolo's multifunctional fitness program, can be excellent resources in this process. Within the research 10 students (8 women, 2 men; average age 67 years) enrolled in the multifunctional fitness program at the SESC Sao Caetano unit, had been submitted to different training practises for thirty months and had to answer a survey, how they felt. Video interviews aimed to show how satisfied they were while staying with the group, as well as if there were any positive physical and/or emotional factors during period.
Results
Depressive feelings: six students felt anxious at the beginning of the process; and in the end, only two had some isolation signal.
Motor coordination: 90% of students reached the goal;
Action and reaction: There was a positive difference of 55%;
Decision making: There was an improvement of 90%;
Perception of sensation of pleasure: the improvement reached 100%
Stress: according to statements the stress level decreased 90%;
Speed: positive variation of 60%.
Physical equilibration: There was a positive response of 70%.
Conclusion
Based on the data presented, the study indicates that the activity / program offered can improve the measured motor variables. We believe that these results are intrinsically related to the wide range of cognitive and sporting character of exercises that are part of the Multifunctional Gymnastics Program. The ludic aspect and the pleasure, inserted into the GMF program, combined with physical practice free choice of each student, appear to be decisive and directly influencing the results found in this study.
---
Evaluation of the Moving Age Questionnaire 2016
13/12/2016
The results of the MOVING Age network evaluation are now in, and 15 of the network's partners responded to the questionnaire. You can find it here: http://www.isca-web.org/files/MOVING_Age/Evaluation_of_the_Moving_Age_Questionnaire_2016.pdf
There is unanimous interest to participate further on in the Moving Age actions and in participating in a Moving Age Conference in 2017. This is an encouraging message to continue with our initiatives.
Looking at the qualitative results of the questionnaire you'll be able to identify very interesting activities and initiatives carried out last 2 years across the different types. And also a lot of new ideas are already in the pipeline for the next 2 years.
All in all we see, that the engagement for the target group of elderly people is still rather high within the Moving Age partners and that we can expect creative new initiatives in the next years as well. But just as well the partners expect that the Moving Age Network continues with its efforts to support their own engagement.
---
New project results: Structured exercise intervention in Active Ageing is a successful motivator for seniors
Under the leadership of Europe Active (EHFA), an EU funded project called "Promoting Physical Activity and Health in Ageing" (PAHA) was carried out in 2015-16. The aim of the PAHA project was to demonstrate if a 6-week intervention of structured exercise, exercise counselling and behavioural change support is effective in increasing physical activity levels in previously self-perceived inactive individuals (55-65 year old). The project results corroborate the importance of mentoring, guiding and motivating people to exercise in a planned and structured way. And when participants feel the positive results themselves it gives them the best reason to continue.
Based on the PAHA experience Europe Active has published a Good Practice Guide (GPD) that is available in December as download in English, French and German from the Europe Active website. For more information click here
http://www.europeactive.eu/projects/paha
---
IKILapsi gymnastics:
The result of a cooperation between Ikiliike and children's gymnastics
Among several other things, IKILapsi gymnastics takes you on a tour around the world through underground tunnels and by flying in the air. During the trip you can try both bull fighting and sumo wrestling, speed up on Formula One tracks and immerse yourself in the world of animals. Two types of gymnastics are available, one suited to outdoors and the other e.g. to children's gymnastics classes.
Gymnastics clubs can utilise the ready-made model classes in their exercises for the elderly, family gymnastics as well as in children's gymnastics classes. The gymnastics activities are also suitable for the home and provide grandparents and children with common activities all year round!
You can find video clips on the movements to support the ready-made model classes at VoimisteluWiki – a site maintained by the Finnish Gymnastics Federation for trainers, instructors, parents and gymnasts alike. It hosts videos, theses and support material for gymnastics enthusiasts. To read more, go to VoimisteluWiki at http://voimisteluwiki.svoli.fi/, and to find video material for IKILapsi gymnastics on the site, type in the search word "ikilapsi".
Enjoy and have fun with gymnastics!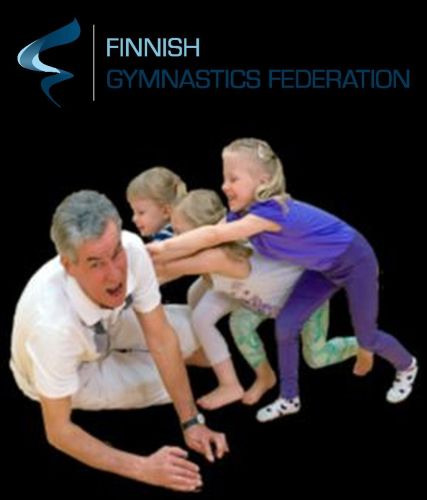 ---
ATP – Everyday Training Program for inactive elderly people
04/11/2016
ATP aims to motivate elderly people (60+) to do more physical activity in their everyday lives. The program focuses on daily necessary abilities like strength, endurance, coordination and flexibility. ATB is carried out as a 12-lesson course, where the participants learn to use their daily routines as a possibility to maintain or to enhance their mobility.
The participants will discover that physical activity is fun, feel healthier and enjoy the social spirit of a group. Moreover health related knowledge will be conveyed. Normally no special equipment is needed for the exercises; only material, which the participants will find at home, such as towels, newspapers, handkerchief packages, water bottles. To be able to link the exercises, practised during the lessons with everyday life, the participants receive a brochure with a description of the exercises, with relevant knowledge modules and with tasks for exercises, which can be practised at home or at any other places outside.
ATP has been developed in cooperation between German Gymnastic Federation, Federal Centre for Health Education, German Sport University Cologne, German Olympic Sport Confederation, and Regional Sport Association North Rhine-Westphalia. It's a standardised and evaluated program.
For more information visit www.aelter-werden-in-balance.de or www.akademievorort.dtb-online.de
---
New international cross-sector project in the area of Active Ageing counteracts frailty risks!
Aims and Relevance: The main aim of my-AHA is to reduce frailty risk by improving physical activity and cognitive function, psychological state, social resources, nutrition, sleep and overall well-being. It will empower older citizens to better manage their own health, resulting in healthcare cost savings. My-AHA will use state-of-the-art analytical concepts to provide new ways of health monitoring and disease prevention through individualized profiling and personalized recommendations, feedback and support.
Approach: An ICT-based platform will detect defined risks in the frailty domains early and accurately via non-stigmatising embedded sensors and data readily available in the daily living environment of older adults. When risk is detected, my-AHA will provide targeted ICT-based interventions with a scientific evidence base of efficacy, including vetted offerings from established providers of medical and AHA support. These interventions will follow an integrated approach to motivate users to participate in exercise, cognitively stimulating games and social networking to achieve long-term behavioural change, sustained by continued end user engagement with my-AHA.
See more at www.activeageing.unito.it or contact Eleftheria Giannouli under e.giannoulinospam-dshs-koeln.de.
---
Osteoporosis and physical activity
20/10/2016
By Vlasta Syslova
Osteoporosis is the most common type of silent, but progressive, bone disease. People with osteoporosis don't have much pain for a long time, but later on back pains appear.
Osteoporosis can be generally characterised by a disorder in the microarchitecture of bone tissues. Destructive processes cause decrease of bone strength and bone mass, of muscle mass and muscle imbalances. This leads to falls and fractures. Elderly people are particularly affected by such complaints.
There are many risk factors in the development of Osteoporosis, such as genetic, gender and race, but we can't influence them. The condition has become an increasing problem because of unhealthy and sedentary lifestyles. Nutritional factors (less intake of calcium, protein, dairy food, fruits and vegetables and vitamin D) and behavioural factors (physical inactivity, smoking and alcohol consumption), are the main risk factors for osteoporosis. These factors can be influenced by preventive and therapeutic measures.
Many scientific studies give evidence of positive effects of physical activity and sport to counteract osteoporosis and its consequences, like fractures. Therefore appropriate physical activities have become an important role for prevention and treatment of osteoporosis.
The mechanic load on the skeleton irritates bone cells and causes rebuilding of bone strength and bone mass for a better degree of resilience. Physical activity releases from muscle contractures around osteoporotic bones, reduce muscle imbalances and preserve sufficient bone mass. Well trained deep stabilisation around the spinal column can protect vertebrae and intervertebral discs, which may result in lower back pains.
The most suitable physical activity is regular walking or Nordic Walking and cycling in flat areas. Resistant (strengthening) training needs lower intensity, more repetitions, more frequency (every other day). More exercises in standing position are recommended. Antigravity muscles in this position positively affect rebuilding of bones. Contact sports and games are not recommended.
It's recommended to improve general functional capability through physical activity by stimulating coordination and balance as well as muscular strength through special exercise programs. This will reduce the incidence of falls, and hence the incidence of fractures.
World Osteoporosis Day is on 20 October each year.
Read more from MOVING Age network leader, Herbert Hartmann on the NowWeMOVE blog
---
Promoting physical activity in socially vulnerable groups
30/09/2016
An interesting research study has recently been published by Marion Herens in the Netherlands, directed to a successful strategy promoting physical activities in socially vulnerable groups. This evidence-based strategy is also useful for the target group of hard-to-reach elderly people.
The main outcomes:
People mainly do it for fun, and want to pay a bit for the activities
Group processes play an important role in maintaining behaviour
Sustainable programs work better
Exercise teachers for the elderly needs professional skills and knowledge and must have a heart for the target group
Organisation requires continuous cooperation and coordination within the local context
You can read the study by downloading the PDF below.
---
Final LIFELONG SWIMMING Meeting in Trieste
On 17 September, during the European Week of Sport, LEN and FIN organised the Final LIFELONG SWIMMING Meeting in Trieste to celebrate the results of the Erasmus+ project.
The main objective of the project was to promote the value of sports and the benefits of water activities in healthy and active ageing. It was organised in FIN Federal Centre in Trieste, a city with a long-lasting tradition in sports and the largest ageing population in Europe.
The LIFELONG SWIMMING 60&abouts Meeting was held at the Bruno Bianchi Swimming Pool and presented an original formula which joint the sports event, seminar sessions on Healthy and Active Ageing themes and the final LLS Conference and Award Ceremony.
It started with the traditional annual H2OpenDay in which the swimming pool opened free to the local 60&about community to offer "tasting sessions" of water sports activities like slow swimming, aqua fitness and aqua yoga.
Then came the "450 years Relays" where swimmers of 60&abouts met with team members from other countries with the common objective of celebrating Healthy and Active Ageing.
The "Relay 450mix" formula is based on an innovative and friendly formula: relay teams formed by 8 team members: 4 women and 4 men and the sum of their age must be equal or over 450 so as to have a free combination of members of different ages swimming together.
Over 250 people took part in the Meeting and 150 senior swimmers registered in the non-competitive 450 Relays. Teams come from nine different European countries (Spain, Turkey, Malta, Switzerland, Portugal, Slovenia, Croatia and Austria) and from many Italian regions.
The eldest swimmer registered was Roberto Alberiche Navarro a Spanish swimmer aged 85 who swam with many senior swimmers both beginners, master swimmers and former national and even Olympic Games swimmers like Lalla Cecchi, Olympic Games in Rome and Tokyo, Franco Del Campo, Mexico City, Gianni Minervini Los Angeles, Seoul and Barcelona.
All participants took part in the Final LIFELONG SWIMMING Conference to celebrate the results of the day and the Lifelong Swimming Project.
We are looking forward to LIFELONG SWIMMING 60& abouts 2017!
---
Prevention of seniors' ailments needs to start at a younger age
14/09/2016
Background: The genesis of main health complaints of elderly people
The popular view of ageing is associated with people who are elderly, retired or approaching retirement. Now, new findings about ageing are shifting their focus to younger age groups.
The main risk factors to health have long-term implications and are created by problematic lifestyles, such as such as poor diet, stress, smoking, some medicines or substance abuse and low levels of physical activity. The consequences are varied, such as high blood pressure, increased level of fats and saccharides, damage of joint cartilage, poor recovery of bone mass, loss of muscle function and pelvic floor and damage to neural cells.
Most of the complaints in older age start to develop at a much younger age. Diabetes is one of the most widespread diseases of ageing people. But secondary insulin resistance, caused by lifestyle factors mentioned above, can be identified in the second life decade as well as visible atherosclerotic changes. Atherosclerosis causes 50% of deaths! Osteoporosis affects at about one third of men and half of women in senior age. Osteoporotic fracture can cause a serious health problems with loss of self-sufficiency and with social impacts, too. For prevention the "peak (top) bone mass" is the most important term. Each person develops this level of bone mass until they are 30 years of age. Intake of proteins, calcium, vitamin D, and physical activity are determining factors for the development of osteoporosis. The same risk factors, especially physical inactivity cause Sarcopenia. Incontinence is also a widespread complain of elderly people; regular tailored exercises since the fourth decennium are very important for prevention. In regard to dementia, medicinal interventions only improve symptoms in its early phase; physical activity and social interaction play the most important role in prevention.
As preventing these complaints demands changes in behaviour from a young age, it makes sense that preventive interventions are now being directed towards younger people.
Taking this background into consideration a pilot project on education for a healthy lifestyle has been carried out in the Czech Republic by: Matějovská Kubešová H., Kellner P., Komenda M., Švancara J., Reissmannová J.. In: Med Sport Boh Slov 2016: 25(2): 65-76.
Pilot study on education for a healthy lifestyle
The aims of this pilot study were to find out the level of knowledge about prevention initiatives among various age groups of the population; to map out certain lifestyle aspects of the younger generation; to give information associated with this matter to different age groups; to support the effectiveness of remembering through personal experience; and to foster a positive, humanistic attitude among the young generation towards the elderly.
1463 people from different age groups participated in the pilot study: pupils (8th and 9th grade), high schools and university students, adults, and seniors.
The knowledge about the relation between lifestyle aspects and complaints of elderly people was tested with questionnaires (adapted to the sub-groups) at the beginning; then followed by lectures and presentations, also fitted to the age groups, such as "How is your grandparents life?" - focused on osteoporosis and arthrosis - for pupils and adolescents or "It's never too late" for adults and seniors, focused on the metabolic syndrome, dementia, depression, incontinence and its prevention. The knowledge was tested again 2-3 months after the lectures. Finally, a special training was carried out by using simulation models of seniors´ syndromes, such as vision and hearing impairments, stiffness of joints and back, lower sensitivity and motoric skills of hands and general motoric discomfort.
Main results of the pilot study were:
- Low awareness about the necessity of long life prevention of atherosclerosis and osteoporosis.
- Participants reported low levels of physical activity and short periods of outdoor activity.
- The effectiveness of the education was proven by an increase in correct answers among the control group
- Positive attitudes and behaviour towards the seniors were observed
- Interest among the public about information leading to healthy ageing.
Vlasta Syslova, CASPV
---
MOVING Age conference presentations available
20/6/2016
The 2nd MOVING Age Conference 2016 took place from 20-22 May in Trieste (Italy), and was organised by MOVING Age partner Lunga Vita Attiva in collaboration with the Federal Centre of the Italian Swimming Federation in Trieste and the Friuli-Venezia Giulia region.
35 participants from 16 countries registered for the event and more than 50 representatives from regional organisations, involved in active and healthy ageing also joined the opening day, which focused on the strategic political question "How to promote and implement active ageing in Europe". Regional politicians and ISCA President Mogens Kirkeby made this challenge subject of the discussion and MOVING Age partners from Belgium, Finland and Italy presented good practice examples.
Theoretical and practical workshops on aquatic activities and fitness testing for elderly people, on brain training, on fundraising opportunities and national and international advocacy initiatives completed the conference programme on Saturday and Sunday (the programme and all presentations are available on the MOVING Age webpage).
All participants enjoyed the interactive and friendly atmosphere during the whole event and the great hospitality of Ariella Cuk and her team. Nobody will forget the magnificent location of the Trieste Yacht Club at the sunset dinner on Saturday.
"It was great pleasure for me to be part of this event. It was perfectly organised, in a wonderful place, with an interesting and enjoyable program and people. I learned a lot from the shared knowledge and experience of the participants. I hope soon we can share our progress in developing moving activities for elderly people in our country," Tanya, a participant from BeActive Bulgaria, said about the conference.
With the success of the MOVING Age conference in Trieste, we are looking forward to the next time MOVING Age network members meet to share their efforts to get more elderly people active!
---
Final programme for MOVING Age conference now available
The final programme for the second MOVING Age conference, in Trieste, Italy, is now available. Please download the file below to see the updates and we look forward to seeing you in Trieste!
---
Slow swimming and brain training feature on interactive MOVING Age programme
ISCA's MOVING Age network partners and other organisations with an interest in promoting active and healthy living among elderly people will meet from 20-22 May 2016 in Trieste, Italy, for the second MOVING Age conference. Registration will remain open until 15 April (or until the capacity of the seating is reached), and the participants can expect an exciting programme that will facilitate the exchange of knowledge and good practices and take them to one of the most popular facilities for the elderly in Italy.
The conference is being organised by MOVING Age partner Lunga Vita Attiva in collaboration with the Federal Centre of the Italian Swimming Federation (FIN) in Trieste and the Friuli-Venezia Giulia region. Lunga Vita Attiva and FIN are partners in the EU-supported Lifelong Swimming project for seniors.
The opening day will be hosted by the regional government of Friuli-Venezia Giulia in the Palazzo della Regione with an additional 80 representatives from regional organisations involved in active and healthy aging also taking part. Regional politicians and ISCA president Mogens Kirkeby will give opening speeches at the event.
The question of "How to promote and implement active ageing in Europe" is the challenging overall theme of the conference. Four examples from different European countries will be presented during the conference to offer potential solutions, and the presenters will open the floor to further debate on the topics.
The conference programme on Saturday will be organised at the Bruno Bianchi swimming pool, which was the venue for the H2 Open Day for over 60s this year and other Lifelong Swimming project activities. Bringing the conference outside of its traditional setting and into a facility that is popular among elderly in Italy will set a lively tone for an exchange of knowledge and practices in an interactive workshop. The MOVING Age partners will present new developments in physical activity programmes for the elderly, exploring how to approach special target groups and to get the most out of new research findings.
Special attention will be given to the topic of brain training through physical activities. Olga Puccioni, a young cognitive neuroscientist and coordinator of SISSA's (the International School for Advanced Studies) outreach activities, will introduce us to brain maintenance through physical, social and cognitive stimulating activities and give examples of exercises.
The interactive workshop "Fundraising instruments and opportunities for active ageing projects", led by ISCA Development Director Kai Troll will provide valuable information on establishing strategic fundraising goals that can capitalise on an organisation's knowledge and expertise.
The conference will conclude with practical activities. Given the aquatic setting of the conference, water activities for elderly people will be at the centre of attention. The well-known expert of "Aqua Fitness", our partner Mimi Adami-Rodriguez, and instructors from the hosting member Lunga Vita Attiva will take the lead in MOVING the participants. Staff from FIN will then introduce the participants to Slow Swimming and Senior Sincronette techniques in an interactive workshop.
Advocacy and cross-sector partnerships are key elements of successful initiatives promoting active and healthy living for elderly people. The MOVING Age conference will focus on this issue in the final session on Sunday. ISCA president Mogens Kirkeby will introduce the topic, drawing on his extensive experience in physical activity advocacy. The MOVING Age partners will add their knowledge and experience from local and national initiatives.
The conference is open for all individuals and organisations interested in promoting physical activities for elderly people. The preliminary conference programme and registration details can be found below.
---
---
Join us at the second MOVING Age conference
We are pleased to invite you to the second MOVING Age conference in the beautiful city of Trieste,
Italy, from 20 - 22 May 2016. The conference will be hosted by Associazione LUNGA VITA ATTIVA,
one of the MOVING Age Network members in collaboration with Federazione Italiana Nuoto Federal
Centre Trieste.
The expected impact of demographic changes on society has raised the topic of active ageing high
on political agendas all over the world. Despite the overwhelmingly positive evidence of the benefits
of physical activity, rates of physical inactivity among elderly people remain unacceptably high (up to
70% of the over 55 age group, according to the Eurobarometer 2013 survey).
The challenge of promoting physical activity to elderly people is too big for one stakeholder
only and even for the sport sector alone! Building constructive partnerships between different
stakeholders and sectors is the natural step forward.
The conference programme will feature interactive workshops covering the following topics:
• Strategic approaches to national and international advocacy initiatives that reduce physical
inactivity among elderly people.
• Fundraising opportunities for active ageing projects.
• Exchange of new practice examples.
• Cross-sector partnerships. Why - Who - How?
• Creating cross-sector networks for physical activity promotion among elderly people.
Participants are invited to make a presentation on one of the topics mentioned above. Please send an
abstract by 1 March 2016 to [email protected]
The aim of the MOVING Age Conference is to promote communication and interaction among
participants, speakers and moderators by using a blend of traditional and innovative methods and
techniques. All participants will be asked to share opinions, questions and examples.
Your presence will be of great relevance to valorising our proposal to discuss one of the most important
topics at present "sport and physical activity for elderly people". We would be very happy to see you at
the MOVING Age Conference and look forward to hearing from you.
You can find more practical information in the PDF below
---
Judo 55+
as an example of social innovation
Raf Tits – project manager VJF (Flemish Judo Federation)
The Gentle Way, judo for 55+
Sport is increasingly used as a means to help achieve social objectives. Such practices are called socially innovative. (Theeboom, 2015)
The programs for 55+ developed by the VJF under the name The Gentle Way depart from a triangle of issues. (Tits, 2012)
According to the 55+ what added value is there in practicing sport?
What are the competences of 55+?
What skills must be trained and maintained by 55+ to live a healthy and independent life as long as possible?
The Gentle Way focuses on lifelong judokas (mostly high degree black belt holders), boomerangs (who did judo in their youth and want to restart), starters (never done judo) and the large group of active people over 55 who never did or will do judo.
For the latter group the VJF developed the program Falling without worries. The VJF sees it as its social mission to offer the expertise of the judo world to all the over-55.

Why is The Gentle Way innovative?

The Gentle Way is innovative because the judo training forms and agreements are adapted to the skills of the over-55, including separate rules regarding kumi-kata (the grabbling), falls and randori (free fighting).
Judo was designed in 1882. At that time, the life expectancy of Belgians at birth was 45 years. For a very long time there was no incentive to think about adapted judo for over-55. Looking at the current population pyramid of Belgium two things are obvious: the prevalence of the 50 to 55 years old and the life expectancy for those born now that has risen to 82 years. The aging population within the membership of the VJF triggered the Flemish judo world to realize that Jigoro Kano (creator of judo) never has designed judo for over-55 and - with respect for the principles - judo can thus be adapted to the skills and needs of over-55.

Why is The Gentle Way socially innovative?

The Gentle Way is socially innovative because it can offer an answer to the expectations of over-55 towards exercise and sport (Scheerder, 2011); judo can bring added value. (Tits, 2012)
The versatility of judo allows to build into exercises, incentives to stimulate qualities that decrease with age, but are important for the over 55s to remain as long as possible healthy and independent.
These qualities are described in the VTS course Supervising sporting seniors. (Flemish Trainer School, 2010).

How does judo meet the needs of the target group and how does judo train the qualities that decrease with age, but are of interest to pursue an autonomous life? 'Use it or lose' it is the motto. To train means to exercise to obtain an effect. How can we incorporate such incentives in the judo training?

In the film Karate Kid (1984) we see how Mister Miyagi (Pat Morita), lets his student, Daniel (Ralph Macchio) sand the wooden floor, wax the car, paint the fence ... Later emerges that these movements from everyday life are the perfect training for a number of karate techniques.
With Active Ageing (WHO) as a goal we can envision to follow the reverse path in judo. In the judo training forms we design, weaim explicitly psychomotor and social objectives and we try to trigger the qualities that empower the 55+ to continue to perform daily activities longer and more independently.

For the aging judoka, also high degree dan grade holders, it can be motivating to discover that the sport they have been practicing all their lives and brought them victories, degrees, prestige, recognition and pleasure, can still bring them many advantages although they feel that their skills diminish and they should be more careful on the judo mat.

In addition, alternative training forms can keep the interest of lifelong judokas going and can act as a 'stone in the pond'. Indeed it is said that old Japanese fish, koi, become lethargic and sick if the pond does not contain a few large rocks to explore.
For teachers it is a challenge to develop forms of training with a 'hidden agenda' and with an additional value alongside traditional judo goals in terms of spirit, technique and body.

Public concern for fall prevention in the elderly is still growing. But what if prevention were insufficient and the older person still falls? The VJF program Falling without worries is innovative to the extent that it initiates the active over-55s in falling technique. The evaluation of the first series of classes is very positive.
Scheerder, J. e. (2011). Ouderen in-actie(f)? : Sociaalwetenschappelijk onderzoek naar sportdeelname en sportbehoeften van 55-plussers in Vlaanderen. Gent: Academia Press.
Theeboom, M. (2015). Sport en sociale innovatie: inspirerende praktijken en inzichten. Brussel: VUBPRESS.
Tits, R. (2012). Judo als sport- en bewegingsvorm voor de 55-plusser (Use it or lose it, deel 1). Boom: Judolabo.
Vlaamse Trainersschool. (2010). Begeleiden van sportende senioren. Brussel.
________________________________________________ Raf Tits January 2016
---
GALM and SCALA
Groningen Active Living Model & Sport-Stimulating Strategy for people with a chronic disease: Life-long activity
The Netherlands has about 3.5 million inhabitants older than 55. The numbers of this population group will grow in coming years, and its life expectancy will increase. These data have an important social meaning, which policymakers should anticipate. Integration, participation and prevention are slogans that are translated into concrete projects through GALM and SCALA.
These projects are aimed at stimulating sports activity of non-active or insufficiently active healthy and medically-afflicted seniors. Research shows that only 45% of seniors between the ages of 55 and 65 in the Netherlands is sufficiently active. GALM and SCALA combat these poor activity habits by introducing sports-stimulating projects at a local level.
In the context of sickness prevention, GALM and SCALA focus primarily on the 55-65 age category. Sufficient movement through sports activities benefits fitness and contributes to prevent and stabilize conditions such as cardiovascular disease and bone and joint disorders, etc. In addition, participation in sports activities is pleasurable, stimulates social contacts and influences mental health in a positive way.
The goal of GALM and SCALA was to get non-active or insufficiently active seniors aged 55-65 to become and stay active. The orientation was towards healthy seniors as well as those suffering from a chronic disease and/or physical handicap.
1.212.345 seniors in 240 municipalities in the Netherlands were approached (31-12-'14) using the GALM method, 78.671 seniors participated in the project.
With regard to the effects of the GALM program, it has been established in a thesis research that several aspects of motor fitness improve after participation. GALM participants feel fitter.
Download a summary of the project's results below
Find the PowerPoint version here
---
Increased longevity of older adults through improved gait speed!
A recently published study has looked at exercise interventions that can improve gait speed among older adults. The finding prompting the study was that increased gait speed (i.e. walking pace) is associated with longevity as it increases elderly people's chances of surviving non-communicable diseases, falls and other disabilities brought about by frailty.
It concludes: "Progressive resistance training with high intensities, is the most effective modality for improving preferred gait speed. Sufficient muscle strength seems an important condition for improving preferred gait speed. The addition of balance-, and/or endurance training does not contribute to the significant positive effects of progressive resistance training. A promising component is exercise with a rhythmic component. Keeping time to music or rhythm possible trains higher cognitive functions that are important for gait."
Find the study here
---
World Congress on Active Ageing (WCAA) calls for abstracts
7/9/2015
The 9th World Congress on Active Ageing will be held in Melbourne, Australia from 28 June-1 July 2016. Hosted by Victoria University's Institute of Sport, Exercise and Active Living (ISEAL), the event is inviting abstract submissions around the theme of 'People, Policy and Practice' for active ageing, with the call open until 15 December 2015.
The Congress offers three different presentation formats:
5-15 minute oral presentations
Poster presentations
90-minute symposium including a panel discussion between 4 presenters
Registration is also open for regular congress delegates, with an early bird fee available until March next year.
Find out more about the presentation types and how to submit an abstract here
Find the registration form here
---
The "Senior Fitness Test":
Easy and effective to use!
The "Senior Fitness Test" had been developed as part of the LifeSpan Wellness Program at Fullerton University by Roberta Rikli and Dr. Jessie Jones.
The test is a simple, easy to use battery of test items that assesses the functional fitness of older adults. It describes easy to understand and effective tests for measuring aerobic fitness, strength and flexibility using minimal and inexpensive equipment.
To find out more, please follow this link
---
MOVING Age conference presentations available
Gent, Belgium 30 April-2 May
Presentations from the first MOVING Age conference in Gent, Belgium, from 30 April to 2 May can be downloaded from Dropbox via this link
Please contact Rachel at [email protected] if you have trouble downloading any of the presentations.
Thank you for your participation and interest in this event, and please keep an eye out for future updates and MOVING Age network events.
---
MOVING Age Network keeps ideas flowing among active ageing promoters
First MOVING Age conference held in Belgium
21/5/2015
On 30 April-2 May, 50 participants from 15 countries took part in the first MOVING Age conference in Gent, Belgium, to share concrete examples of successful physical activity initiatives for the elderly and get a taste of some of the activities themselves. The conference was hosted by a consortium of six Belgian MOVING Age partners under the coordination of Ingrid Peeters (OKRA Sport) in the beautiful surroundings and pleasant facilities of the BLOSO Centre.
After the conference opened with inspirational speeches from the General Manager of BLOSO, Philippe Paquay, and ISCA President Mogens Kirkeby, the delegates started to discuss the challenging topic: how to engage more inactive elderly people in sport and physical activity.
The strategic approaches they discussed were underpinned by good practice examples. Two workshops paid attention on the one hand to topical developments in projects and programs, and on the other hand to new exercise programs (e.g. for the treatment and prevention of osteoporosis, diabetes and disabilities). Three examples from each workshop were examined interactively in round table discussions.
The afternoon of the second conference day allowed the participants to be physically active themselves when they tried activities designed for elderly people, such as "Krolf" (mixture of golf and croquet), "Walking Football", "King Pong" (a table tennis variation) and "Care free fall".
The conference program continued on the last day with three presentations of educational concepts for instructors working with elderly people (Flemish Trainer School; SOKOL concept; DGI strategy). The last interactive workshop gave space to topics that hadn't already been covered, as well as the future aims of the MOVING Age Network.
The encouraging statement of ISCA president Mogens Kirkeby at the end of the conference, which underlined the importance of the mission and aims of the network, was that the network should be seen as an opportunity to extend the legacy of active ageing initiatives to keep the wheels turning and new ideas flowing.
If you are running an active ageing initiative, you are welcome to join the MOVING Age Network and share your ideas with your peers in Europe.
To access the presentations from the conference, please click here
---
Fit hockey for Seniors
25/4/2015
The KNVB (Royal Dutch Hockey Association) wants to move inactive elderly people and it is doing so with Fit Hockey.
Fit Hockey was introduced in 2006 as a new hockey variant for over 50s. Many sports clubs were attracted to the sport immediately and got new participants engaged. The sport is easy for people without any hockey experience to join in and play a nice game. So Fit Hockey is a very accessible outdoor sport where no experience is required. It is a challenging yet safe sport for seniors aged 50 years and above.
It is played on fields of plastic grass, with modified hockey sticks and a soft ball, so the
risk of injury is very low. Many hockey clubs now offer Fit Hockey to their members and the social aspect is of paramount importance in this setting.
Find out more about the Royal Dutch Hockey Association here
Find out more about Fit Hockey here
---
Senior-Friendly Municipalities: a socio-ecological approach in the Netherlands
13/2/2015
Senior-Friendly Municipalities, project set up in Nedherlands, promotes active ageing with the goal to improve quality of life of older people. The project policy of topics such as health, participation, mobility and security is seen in conjunction.
Senior-Friendly Municipalities adapts its structures and services to be accessible for the elderly. Because the elderly are not a homogeneous group that's why there is special attention for the differences within the target group. The topics are taken from those of the World Health Organisation (WHO). The WHO also has a global network of ' Age-Friendly Cities '. Partly on the basis of this concept the project "Senior-Friendly Municipalities" has been set up in Netherlands.
Physical activity and sports, food, housing, internet technology and social participation are crucial aspects in active, healthy and independent ageing. The project "Senior-Friendly Municipalities" focuses on bringing together all relevant parties: local and national authorities, knowledge institutions, companies and other organizations. They have the intention to join their forces with the aim to make a positive contribution to active ageing in the Netherlands especially by exchanging knowledge experience, sharing best practices, following trends and developments and support new initiatives.
---
Recommended 150 minutes of physical activity pronounced too challenging
13/2/2015
Health service guidelines (NHS) which advise adults to exercise for 150 minutes a week are too challenging for most people and doctors are called on to set lower targets. However a recent study of more than 250,000 adults aged between 50 and 71 in the US found that less than one hour of moderate exercise a week or 20 minutes of vigorous activity reduced the risk of dying prematurely by up to 23%.
Similarly a review of six studies found a 19% decrease in the risk of early death among people walking for less than 75 minutes a week, compared with those who did nothing. The study found even one minute of extra exercise could be beneficial.
Professor Phillip Sparling at the Georgia Institute of Technology claims that older people in particular were daunted by the 150 minute target. "Slowly increasing light activity may prove more realistic, and pave the way to more intense exercise.We are not proposing that the 150 minute a week standard should be abandoned," he says. "Rather, our purpose is to remind colleagues that a broad perspective to counselling is already embedded in the guidelines and that a whole data approach for older sedentary patients may help them move towards the recommended activity levels," Sparling claims.
However the NHS says that 150 minutes was still needed to positively impact health.
---
EUNAAPA Training Curriculum published
13/2/2015
The EUropean Network for Action on Ageing and Physical Activity (EUNAAPA) is a collaborative network aiming to improve health, wellbeing, participation, and independence of older people throughout Europe by promoting evidence-based physical activity.At the end of 2014 the EUNAAPA network published a Training Curriculum for promoting physical activity in Older Adults.
This curriculum will act as a solid recommendation to use in development of different kind of courses for people working in public health, healthcare and NGO organisations on how to stimulate physical activity and reduce sedentary behaviour among older adults. It is also appropriate for students of various health care professions. The curriculum is based on, and includes, the latest evidence on the topic of promoting PA in older persons and will be implemented via European and regional courses. Please feel free to forward it to your own network!
You can access the curriculum here.
---
News on activities for elderly from the German Gymnastic Federation (DTB)
30/1/2015
A convention "Moved Living – Active and Fit in the Second Phase of Life" is in the pipeline. This is an event for instructors of groups with elderly people as participants and for interested parties to get new ideas and suggestion for their lessons. The content will be multifaceted, including workshops on such topics as workout, fascial training, relaxation, fitness-test, balance etc. The main target groups are active and fit over 60s and unfit newcomers and returners. This concept goes on tour, which means that in 2015 this event will take place several times, always in a different city. So far it is confirmed that next year it will take place at least three times.
The project "AUFleben" (Active and Fit Living) is still ongoing. The main goal is to implement physical activity programs in communities for three target groups: old-old people, people with dementia and informal caregivers.
Another project tries to motivate rural women to be part of a specific balance program. The main challenge is to recruit and to train instructors. In the rural area, it's difficult to implement these programs for the falls prevention.
For 2016 DTB is preparing the second "Senior Sports Congress".
---
Sport participation in Netherlands has raised significantly
30/1/2015
The "Netherlands Olympic Comittee*Netherlands Sport Federation" (NOC*NSF) is the main organization for organized sports in Netherlands. For many years NOC*NSF and other sport federations have worked hard to enable people of all ages to do sport. And their efforts have paid off. Participation in sport has increased sharply. However NOC*NSF want to raise the rate again by setting challenging targets. It is the aim to raise sport participation among the general public from 65% to 75%.
Target groups that became more active in sports in 2014 are men (+ 180,000) and concerning ages: 31 - 44 year olds (+ 120,000) 45-65 equal and older people aged 64 -80 years (+ 80.000). In recent years NOC*NSF has focused on these target groups. The efforts made by sports supplier for these groups did work.
The Sport Federation have set four concrete objectives:
1. Getting more people to do sport:
- 75% (now 65%) of the population perform sport at least 12 times per year.
2. Getting people to do sport more often:
- 60% (now 50%) of the population perform sport at least 40 times per year.
3. Getting people to be more active:
- 70% (now 60%) of the population comply with the combi-norm2 (a Dutch standard that combines physical fitness and health) and additional 10% of sportsmen and women play in sporting competitions.
4. Getting people to remain active in sport longer:
- 35% (now 29%) of the population is a member of a sport club or other sport provider
Moreover NOC*NSF has recently extended the portal www.sport.nl, a gateway to information and inspiration about sports for all, also for people from 45+ and 65+. Both our physical activity demands and capabilities change with age. That is why this special portal is open also for the older age groups. Here one can get an easy access to all the information and inspiration that suits his or her needs such as articles on health, nutrition, training and experience or information about sports and sport clubs nearby.
Find more information at http://sport.nl/45plus and at http://sport.nl/65plus.
---
The Flemish Judo Federation VJF is very active for 55+
13/1/2015
The new Belgian member in the Moving Age network, Flemish Judo Federation (VJF), offers some evolutions in Judo activities particularly for elderly people.
VJF provide local open training "Judo with a fitness ball" and "Judo with a walking stick" for 55+ in Duffel/Flanders. The federation offers a special education for Judo instructors 55+ and for prevention of falls for active seniors.
More information about Flemish Judo Federation can be found at http://www.vjf.be/.
---
Football is 'more than football'!
8/1/2015
On November 26, the 10th anniversary of former dutch Prime Minister Balkenende called football an instrument for making a stronger and heathier society. The KNVB (football union), Premier League and First Division heeded his call and set up the foundation "More than Football".
One of the new initiatives is Old Stars, a project of National Elderly Fund and the Premier League. This new exercise program for people over 60, will get a 20 weeks workout at their favorite Premier League club.
---
World Congress on Active Ageing 2016
7/1/2015
World Congress on Active Ageing (WCAA) is a global event that will be hosted by Victoria University's Institute of Sport, Exercise and Active Living (ISEAL) this year. It will be the 9th Congress held under the auspices of the International Coalition for Ageing and Physical Activity (ICAPA).
In light of significantly increasing governmental focus on keeping their ageing populations more healthy and active, this conference will prove to be the largest gathering of experts and stakeholders in the field of Active Ageing ever assembled. It is anticipating that in excess of 1,000 international delegates will meet from more than 30 countries in July 2016 at the Melbourne Convention & Exhibition Centre and to that end those interested in the topis are now invited to be part of this exciting event.
More information can be found at http://wcaa2016.com.au/.
---
Joint forces for prevention of falls in Holland
11/12/2014
The Netherlands Judo Federation introduces the 6-week program "Fit, safe and fall break", within the program "Exercise on Prescription"' in the city of Nijmegen.
In a comprehensive approach all fall prevention program-organisers working together under the leadership of the public health service. Each program (providers) focuses on their own target groups. Physiotherapists, occupational therapists, the public health service and Foundation Top Judo Nijmegen will join their forces (cross sectoral). The ultimate goal of the integrated approach is that there exists a referral function between the mutual programs.
---
News from South Lanarkshire Leisure and Culture (SLLC)
8/12/2014
In April 2014, South Lanarkshire Leisure and Culture introduced its Active Aging membership. A £50 per annum membership for any residents 60+ years, giving them full access to SLLC products and services at a cost of less than £1 per week! We know that participation in regular physical activity has a positive impact on the health, social and economic agendas and so SLLC are striving to make this as affordable and accessible to the older adults of South Lanarkshire as possible.
With the launch of the Active Aging membership, SLLC have been conducting with older adults groups and individual residents to identify what products and services over and above the already established 'mainstream' ones, would be of interest and benefit to that specific client ground. Walking Football is being piloted in 1 or the 4 geographical locality across SL with the vision or rolling this out and including it within the membership.
Working in partnership with Seniors Together, an established voluntary group which sits within South Lanarkshire Council, a weekly event named 'Active Tuesdays' (based on a similar Danish model) will be piloted from January 2015 for 8 weeks. Again, this service will be included within the Active Ageing membership and add value to it. The named morning in the week (in this case a Tuesday at Blantyre Leisure Centre) will dedicate space and provision specifically for older adults who would like to 'drop in', socialise and participate in the activities. It will be an informal session whereby people can come and go as they please with the utopic vision including aspects such as arts and crafts as well as a range of physical activity opportunities.
In October 2014, SLLC in partnership with HUR, hosted a one day Active Aging Conference. This was attended by over 120 delegates from both a national and international setting and included key note presentations and discussions around themes such as 'Reducing healthcare costs through exercise for the elderly' from Lena Karjaluoto: CEO, HUR Finland, 'Capacity building for physical activity for older people' from Prof. Herbert Hartmann: International Sport and Culture Association, and 'Potential benefits of physical activity for the ageing brain', from Dr Alan Gow: Herriot-Watt University. Feedback from the day suggested it was both engaging and relevant to the work delegates were currently involved in and provided SLLC momentum and focus to continue their work in and around this area.
---
News from Vlaamse Athletikliga (VAL)
8/12/2014
The Fit Free-program for adults/seniors
With the aid of the government the Flemish athletic federation could start in 2014 a low threshold motion project. It's divided in 4 sessions from about 10 weeks:
Session 1 = indoor = circuit training (stabilization, proprioception, flexibility, agility,…)
Session 2 = outdoor = Fartlek (walk/exercise program)
Session 3 = outdoor = athletic module (game forms with all movement skills)
Session 4 = indoor = circuit training with partners
Participants pay € 20 per 10 week session. They can participate twice a week during 1 hour. The federation pays the "entertrainers", the club pays for the facility.
For the moment we have 10 participating clubs (of 85 clubs in Flanders). The average age is 48 year for the moment. We have as well 60+ participants as youngsters from 16 years old who have no sports experience. It is nice to see that a grandmother is coming to sport with her grandchild.
The greatest problem is to convict the athletic clubs to start with the program. Our athletic clubs are very conservative on that point. They want to focus on competition instead of recreation. I start in 2015 to contact each club individually to convince them to start with the project.